Posts: 29
Joined: Fri Jun 11, 2010 4:12 pm
Location: Silverblade/ Goldburg. Come and join us, we have cookies!
Abtei Silberklinge
((bitte nur IG Beiträge))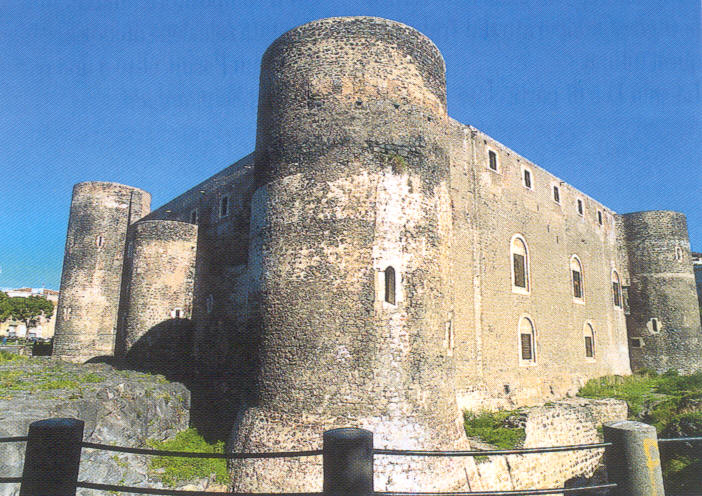 Die Abtei Silberklinge befindet sich in der ehemaligen Goldburg, eine Enklave Silberbrands, umbenannt nach dem Grafen und der Gräfin Boindil Silberklinge und Friedwulfa Silberklinge.
Die Abtei ist recht jung gegründet, besteht nun seit mehreren Monaten und bietet ein Ort der inneren Einkehr, des Friedens und des Glaubens.
Die Abgeschiedenheit bietet den Bewohnern der Abtei die Möglichkeit, den eigenen Glauben in Frieden auszuleben und Zeit für die persönliche Selbstfindung zu erlangen. Doch sind wir gewillt wirtschaftliche Beziehungen zu pflegen und mit unserer Umwelt guten Kontakt zu bewahren.
Es ist in Zeiten des geistigen Zwiespalts und böser Einflüsse sehr wichtig die Orientierung wieder zu bekommen, um den göttlichen Weg fort zu setzen. Der geistige Halt, die Loyalität an die Alten, sowie Neuen Götter, ist somit hier sehr präsent.
Die Abtei soll ein Pantheon sein, das die Lehren aller Götter lehren soll. Besonders werden wir die Lehren und den Glauben an Irmorom vertreten.
Messen für die Götter und für das Seelenheil der Bewohner Gobaiths werden abgehalten, die für alle, guten und tugendhaften Herzens, offen stehen sowie allen, die nach Hilfe suchen, denn besonders die, die ohne Glauben sind, widmen wir unsere Zeit, damit sie ihren Weg des Glaubens finden oder auch ihren verlorenen Weg wieder zurück erlangen.
Alle sind jederzeit und herzlich willkommen den Messen beizuwohnen und die Abtei jederzeit zu besuchen.
Zudem möchte die Abtei gute Beziehungen und Mitarbeit mit allen Nachbarstädten und Reichen pflegen. Die geistige Entwicklung auf Gobaith ist uns Mitgliedern der Abtei sehr wichtig. Daher vertreten wir die 5 göttlichen Werte:
Barmherzigkeit, Aufrichtigkeit, Anstand, Frömmigkeit und Ehrlichkeit.
"The New Hope Charity"
Der Hauptsitz der
"New Hope Charity"
, geleitet von Priorin Seori, befindet sich ebenfalls in der Abtei.
Ziel ist es den Hilfsbedürftigen dieser Welt einen neuen Ankerpunkt zu bieten, ihr Leben neu zu ordnen um wieder auf eigenen Beinen stehen zu können.
Denn bedenket: Gebet einem Armen einen Fisch, so ernährst du ihn für einen Tag. Gebet einem Armen eine Angel und bringe ihm bei, wie man angelt, so ernährst du ihn für sein ganzes Leben!
Wir bieten allen, die Hilfe suchen Obdach in unserer Abtei. Sie ist ein Ort der Zuflucht und Sicherheit für die, die sich nicht sicher fühlen und deren Existenz bedroht ist. Die Gäste erhalten warme Mahlzeiten, ein geregeltes Leben in der Abtei und haben die Möglichkeit sich neu zu ordnen und ihren neuen Weg mit gutem Gewissen und reinem Herzen zu beginnen.
"The College of Divinity"
Die
"Schule der Göttlichkeit"
ist eine akademische Einrichtung um Novizen zu Mönchen, Priestern und Klerikern allen Glaubens der Alten und Neuen Götter auszubilden. Sie beinhaltet die Lehren aller Götter, den Glauben an sie und einen geistlichen Weg, für den sich die Novizen berufen fühlen müssen. Die Schule befindet sich ebenfalls in der Abtei. Die Novizen lernen von ihrem Novizenmeister, wählen sich ihren Weg aus und werden ihn ihrer neuen Profession gefördert. Wichtige Tugenden, die man als ein geistliches Ordensmitglied haben muss, sind Loyalität, Ehrlichkeit, das Herz am rechten Fleck und der Glaube an die Götter.
Die Abtei bietet zudem noch weitere Dienste an:
Der
Bund der Ehe
kann ein heiliges Band zwischen zwei Liebenden sein, die sich inniglich lieben und sich ihr Leben lang die Treue schwören möchten.
So werden die Götter ihre Zeugen sein und der Schwur wird von ihnen abgesegnet.
Traut euch!
Festtage
, organisiert vom Orden der Abtei, bietet allen Besuchern die Möglichkeit, die Abtei und deren Bewohner besser kennen zu lernen. Zudem möchten wir Klosterbewohner durch diese Feste eine gute Atmosphäre in die Gesellschaft einbringen und die Solidarität unter den Leuten stärken. Wir alle sind eine große Gemeinschaft auf Gobaith! Deswegen müssen wir zusammenhalten!
Spendenaktionen
sollen für die "New Hope Charity" eine finanzielle und/oder materielle Unterstützung sein, um den Hilfsbedürftigen helfen zu können. Spenden kann jeder und jederzeit. Auch an den Festtagen sind wir für jede Almosen sehr dankbar. Besonders außerhalb dieser Veranstaltungen ist die Abtei den Spendern sehr dankbar.
Die Beichte
, im symbolischem Sinne, soll Personen von ihrem seelischen Leid heilen. Wer Böses tut und dies bereut, so habe ich ein offenes Ohr für euch und werde euch auf eurem Weg der Buße unterstützen so gut ich kann.
Doch gibt es auch anderes seelisches Leid, dass nur durch göttliche Kraft zu heilen ist. Als Seelenheiler bin ich gewillt den Leidenden in geistiger Not und Unsicherheit deren Seele zu bereinigen und sie von jeglichen bösen Einflüssen zu bewahren.
Darüber hinaus gibt es Momente, in denen man nicht weiter weiß und man Rat braucht. Den Ratsuchenden stehen jederzeit die Tore der Abtei offen. Bedenken, Sorgen und Ängste werden in den
Beratungsstunden
Gehör finden und in ein oder mehreren intensiven Gesprächen analysiert und zu einer Problemlösung geführt.
Die
Kooperation mit anderen Orden
auf Gobaith ist uns sehr wichtig. Dafür stehen wir den anderen Orden auf dieser Insel und geplanten Messen zur Verfügung und stehen euch gerne bei.
Die
Kooperation mit dem Festland
hat insofern eine Bedeutung, dass wir Kontakte mit lokalen Klöstern und Orden, Klerikern und Priestern halten. Mit ihnen tauschen wir unsere Erfahrungen aus und unterstützen uns gegenseitig. Hin und wieder werden Reisen zum Festland durchgeführt, um die Klöster und Orden zu besuchen und mit ihnen unsere Zusammenarbeit zu stärken.
Geplant ist eine
Klosterbibliothek
, die ein breites Wissenspektrum über die Götter und die Wissenschaft beinhalten wird. Wissen ist Macht, wie es bekanntlich heißt. Doch Wissen kann einen auch näher zum Glauben führen.
gezeichnet:
~Abt Coloman
Abtei Silberklinge
Last edited by
Abbey Silverblade
on Mon Jul 12, 2010 7:46 am, edited 8 times in total.